George Lane design and manufacture the highest quality lehr conveyor belts – used worldwide for annealing and decorating of glass containers.
Expertly manufactured to ensure smooth running characteristics for product stability and with flat spirals for minimum stretch.
All of our lehr belts can be produced with either flat or round wire profiles and are often over 5 metres wide.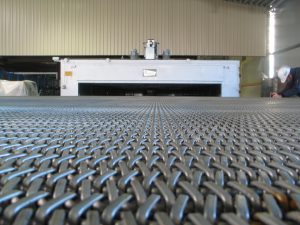 We only use the highest quality materials – including chrome molybdenum, 430 stainless steel, 304 stainless steel and other materials are available on request.
Our expert team carry out quality checks at each stage of the production process, ensuring high standards of manufacturing in all of our conveyor belt s.
Contact us now for more information on we can meet your lehr conveyor belt specifications.
Downloads
Fitting Instructions for Lehr Belts